One of the most famous festivals of India is Navratri. It is not only because it's celebrated throughout India widely but also due to festival attire. It is dedicated to Maa Shakti or Goddess Durga that symbolizes purity and power. You can't visualize the admiration of this festival until you engage in it. The attire is a fusion of calf-length ghagras, t-shirts, crop tops, dhoti pants for girls for Garba. For boys, it is a fusion of pagdis, dhoti pants, kedias, and silver chain. On this particular occasion, you can see people dancing on the sound of dhol's, especially youngsters. Thus, India's unity is reflected in the nine nights with dazzling lights and colourful celebrations.
Garba: Navratri Celebration
From Durga Puja rituals to dandiya dance, this festival popularity spreads throughout India, and it represents diverse customs and regular flavours. Also, the celebration held due to primary crop cultural events. It is celebrated on the victory of goddess Maa Durga over the demon Mahishasura. The last day of Navratri popularly celebrated as Dussehra.
Garba And Dandiya Places
Vadodara, United Way Garba
The journey of dandiya starts from the hometown, Gujarat, Vadodara. In the United Way Garba, Ras Garba events are the perfect venue. Here, over 30,000 people dance for nine nights. You can't resist when you see dancing with dandiya in both hands and moving in a circle. Worshipers give money to 140 charitable groups. From a dance contest to good food, it's the best destination in India that combines everything.
Garba, GMDC, Ahmedabad
Ahmedabad covers most of the crowd on dandiya nights. On the rhythm of folk music, partners try to match steps and moves. One can freely learn to do the Garba and dandiya here.
Garba Costume
Bajuband, Pagdi, and Silver Jewellery
Pagdis are available in various material types. Youth usually opt for safa pagdi because it looks regular and is lighter. If you wish to have a heavy one, try Rajasthani pagdi. With sleeveless kedia, Bajuband can be worn. Or else, you can add Jewels and temporary tattoo. The dandiya costume paired with matha Patti, maang teeka, neck-pieces, Bajuband, Zumba with layers, and Kada.
Garba Classy, Yet Light
A calf-length ghagara gives a traditional look. It delivers ease during the moves and movements. Along with the costume, you can pick Bajuband and matha, Patti, with a neckpiece.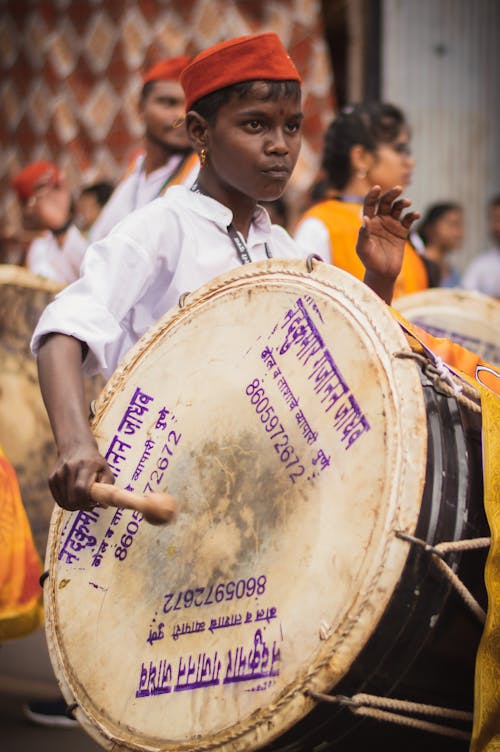 Indo Western
Fashion designer expert Harsh shares a sprinkle of western pair to Indian dance costume. With dhoti pants, it makes use of minimal Jewels. Girls can opt for a ghagra, shirts or t-shirt. Some accessories, like cloth Jewels or pom-pom Jewellery, adds beauty to the indo-western style.
Some Tips
Since dandiya nights is non-stop, you need to stay hydrated. Carry a bottle of water with you at all times. Sleep until midnight, so that you can celebrate the festival well. Get the passes before time from famous venues such as United Way Garba. Women should wear ghagra cholis, and men should wear dhotis and pyjamas. If you dress this way, you get both comfort priority and non-strop entertainment the whole night.